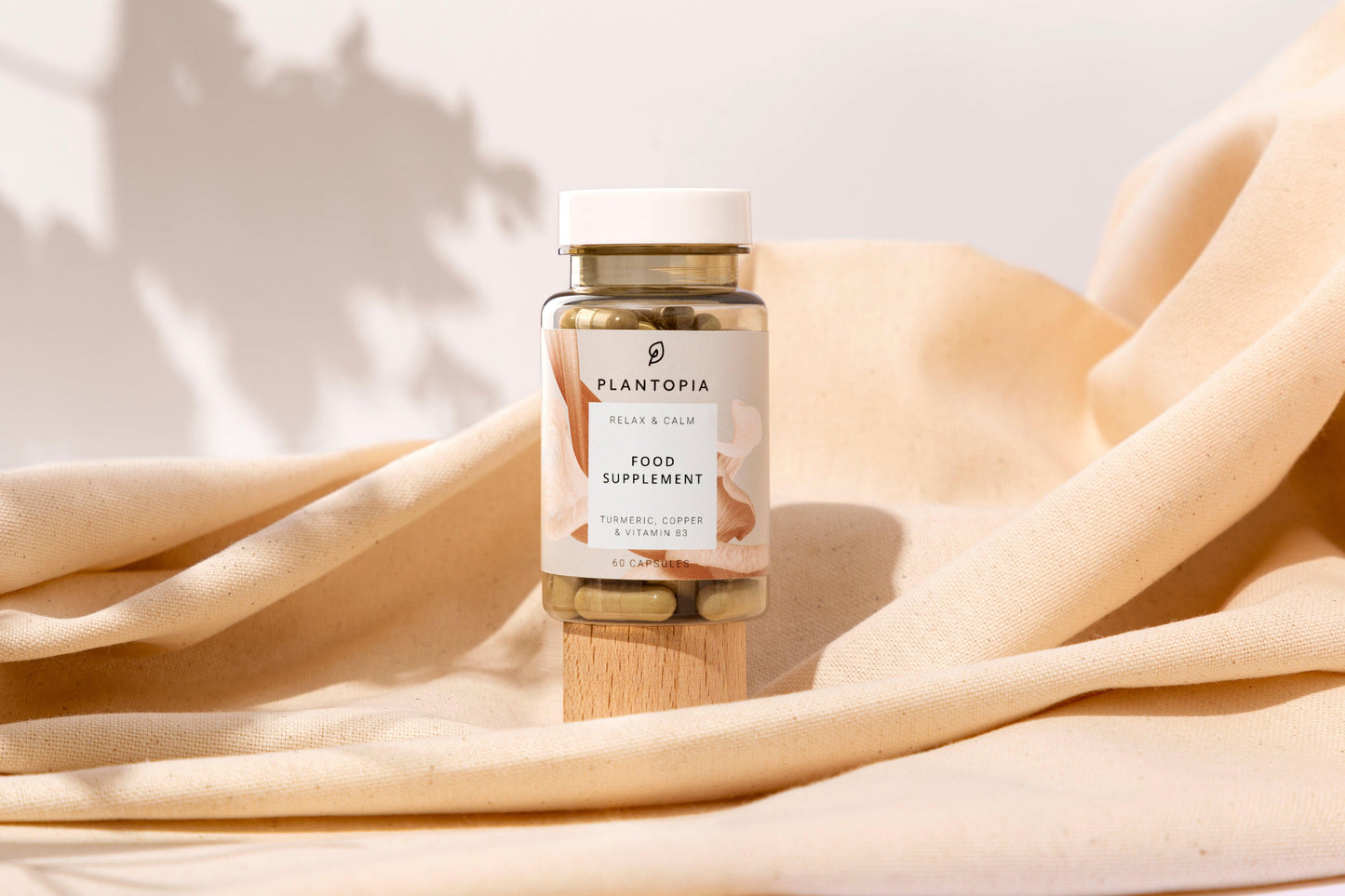 Supplements: A Modern Take on Herbal Medicine
Everything you need to know about Plantopia Supplements.
By 2030*, depression and anxiety will be the number one disease impacting people globally. A sound mind and body are the key factors for 94%* of us to living well. Plantopia supports the management and impact of stress for mind, body and skin through a holistic approach to wellbeing and self care. Food supplements play an anchoring role, supporting wellness journeys from the inside out. 
What is a food supplement? 
Concentrated sources of nutrients, food supplements help to ensure enough of the right nutrients are available to our bodies, support specific physiological functions, and correct nutritional deficiencies. They contain a wide range of nutrients and other ingredients including vitamins, minerals, amino acids, essential fatty acids and plant extracts. Plantopia's supplements are encapsulated to provide a consistent balance and dose of nutrients.  
Our food supplements have been carefully researched, expertly formulated and ethically sourced. Each and every ingredient has been considered and selected for the role it plays in supporting the body's physiology and biochemistry, helping to provide optimal nourishment that will aid rebalancing, recuperation and wellbeing dependent on the range it has been carefully curated to support.  
Each of Plantopia's four supplements have been formulated to address specific symptoms of stress, and every formulation contains: 
Adaptogens 
Extracts from plants that have unique properties related to helping the body adapt to fight physical or mental stress and restore balance. 
 Plant Antioxidant 
Natural chemistry that combats the formulation of free radicals, helping to prevent damage.  
 Vitamins 
Essential nutrients that the body needs, but doesn't necessarily make enough of. Absorbed from food, vitamins play roles in a range of physiological and mental functions that are critical for general health. 
 Minerals 
Extracted from the earth by plants and people, these essential elements are crucial for functions from growth and development to repair in the body.  
 BioPerine®  
A standardised extract of black pepper containing a minimum of 95% piperine. It has been shown to enhance the bioavailability of nutrients, making it the best companion for your supplements. 
Which Plantopia supplement is right for you? 
DETOX & PURIFY 
STRESS SYMPTOM: Toxin build up causing sluggishness, hyper-sensitivity and negativity. 
A powerful blend of herbs and vitamins to grant a wealth of benefits and improved well-being. Adaptogenic schisandra berries, ginger, green tea, chlorella and ginkgo biloba are balanced with vitamin C, one of the most effective vitamins for boosting energy, and choline to support the removal of toxins from the body. 
REST & SLEEP 
STRESS SYMPTOM: Poor quality, reduced sleep, with an inability to drift off. 
An effective blend of sleep-supporting botanicals, vitamins and minerals to contribute to improved rest. Adaptogenic ashwaghanda, lavender, rosehip, chamomile and passionflower are combined with vitamin B12 to help reduce tiredness and fatigue, vitamin B6 to encourage normal psychological performance, and magnesium for mental health and to support the nervous system.  
RELAX & CALM 
STRESS SYMPTOM: Anxiety, depression and inflammation. 
A soothing blend of herbs, vitamins and minerals to deliver a host of well-being benefits. Adaptogenic turmeric, lemon balm, chamomile, and baobab are combined with BioPerine® black pepper which supports better and faster absorption of vitamins and nutrients (especially important to getting the maximum benefits from turmeric). Niacin (vitamin B3) helps to reduce fatigue and encourage a calm mind, while copper supports healthy physiological function for improved wellness. 
ENERGISE & UPLIFT  
STRESS SYMPTOM: Fatigue, dull skin, a lack of focus and motivation. 
An empowering combination of botanicals, vitamins and minerals targeted to help to improve memory, sharpness and focus. Adaptogenic Siberian ginseng, watermelon, elderberry and pomegranate are blended with vitamin B6, one of the most effective vitamins for boosting energy, vitamin B5 to awaken the mind and iron to support cognitive focus. 
*SOURCE: Insights from Harvard Health Publishing; Mind; American Psychological Association; University of Florida College of Medicine).